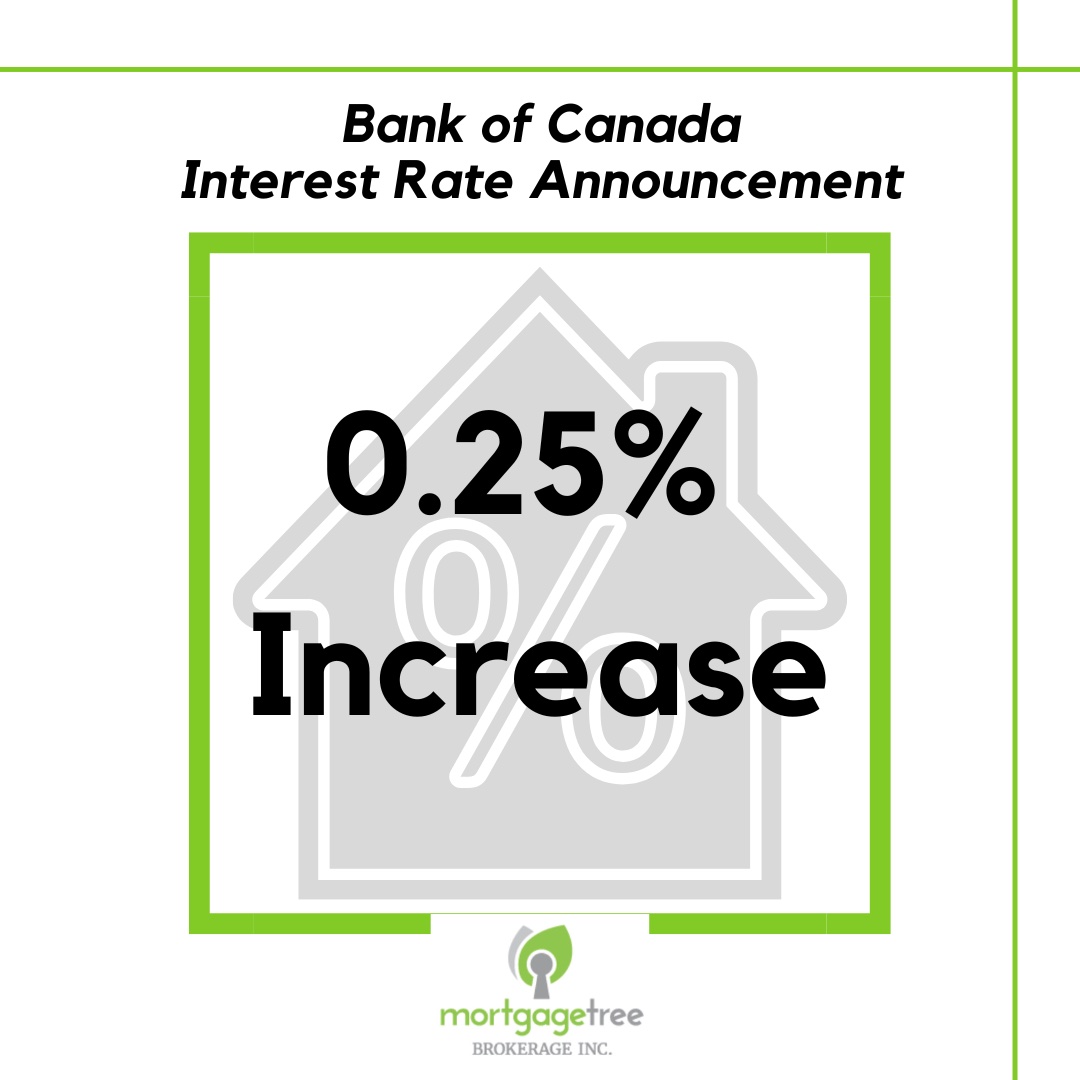 The Bank of Canada announced another rate increase in the Bank rate of .25bps on January 25th, 2023.  This is the eighth consecutive rate hike. If market expectations are correct, it could be also be its last of this rate-hike cycle. as expected, the BofC raised rates by 25 basis points, bringing its overnight target rate to 4.50% – 425 bps higher than it was in March.
In its statement, the Bank pointed to ongoing tight labour market conditions and "persistent excess demand" as reasons for the rate hike, but also clearly indicated it's preparing for a pause.
The BoC's latest forecast
The Bank of Canada also released their Monetary Policy Report (click here to read more)
Inflation
The bank expects consumer price index (CPI) inflation to average:
3.6% in 2023 (vs. 4.1% in its previous forecast)
2.3% in 2024 (vs. 2.2%)
"CPI inflation in Canada is still too high but has declined from its recent peak," the report reads. The forecast for 2023 has been lowered "mainly due to gasoline prices dropping more than expected and global supply chains improving more quickly than anticipated."
GDP forecast
The Bank now expects annual economic growth of:
1% in 2023 (from a previous forecast of 0.9%)
1.8% in 2024 (from 2%)
The BoC said it expects growth to "stall" through the middle of 2023.
"The tightening of monetary policy initially slowed housing activity followed by consumer demand for durables in the middle of 2022," the BoC said. "The effects of the rise in interest rates are expected to broaden and moderate consumer spending on services as well as investment spending in 2023."
Conclusion
Experts are expecting the Bank of Canada to hold the Bank Rate steady as inflation continues to decrease.
Economists at ING have also flagged rising debt levels as a reason the Bank is likely to make this rate hike its last.
"Given Canada's high household debt exposure and greater vulnerability to rising interest rates via the mortgage market structure, we think the economy and inflation could slow more rapidly than the BoC is currently projecting," they wrote. "Consequently, we think the next move will in fact be an interest rate cut with the potential first easing coming as soon as late in the third quarter."
Economists at National Bank of Canada agree that the next rate move is likely to be a cut.
"interest rates will not need to be kept at current levels for very long to brake inflation," they wrote. "Accordingly, expect the Bank to be obliged to lower them in the second half of [2023]."
We will continue to watch the rate market and provide updates throughout the year. If you have any questions please reach out anytime.