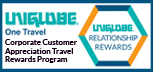 UNIGLOBE One Travel recognizes the need to vacation with family & friends, celebrate milestones in a special way or just plan an escape, away from work, emails & demands. The Relationship Rewards Program is our way of also recognizing the relationship we have with all of you, our customers.
 As an appreciation of that business, UNIGLOBE One Travel provides Relationship Rewards members with exclusive travel rewards to destinations all over the world. In addition to the lowest price guarantee, program members receive exclusive value added rewards when a personal travel package is booked with UNIGLOBE One Travel.
Visit the UNIGLOBE One Travel Relationship Rewards site for full details of the value added rewards - Click on the "Become a Member" tab to sign up to receive our Weekly Travel Specials and explore the site for more great offers and information on how the program works.
Travel promotions and offers are not advertised or available to the general public. Family members or friends are welcome to participate provided they are traveling with a qualified participant.
By booking your vacation travel through us you will receive:
$50 gift card* of your choice: Chapters, iTunes, Home Depot,Boston Pizza, or Earl's
Exclusive savings and negotiated rates
Plaza Premium Lounges: 20% discount off lounge passes - enjoy moments of tranquility before you depart
Upgraded accommodations, resorts and spa credits at select resorts
Shipboard credits up to $200 per couple
Airport Parking Coupons
Exclusive weekly emails with Relationship Rewards travel specials
A free subscription to our 68-page quarterly Vacation magazine
Exclusive Promotions
Please Note:
* $50 Gift Card is based on per booking/invoice on preferred supplier bookings of $2,000 or more (including taxes)
Our experienced vacation travel experts offer options and ideas to suit any budget and timeframe. Contact us today to learn more about how the Relationship Rewards program can work for you!
Contact our Vacation travel experts
1-888-221-5221 | RRP@UniglobeOne.com For more information please visit www.uniglobeone.com/relationship-rewards
visit Unigloble One Travel online
Contact Unigloble One Travel
1.888.221.5221
rrp@uniglobeone.com
We're always adding new Rewards Members to better serve You!