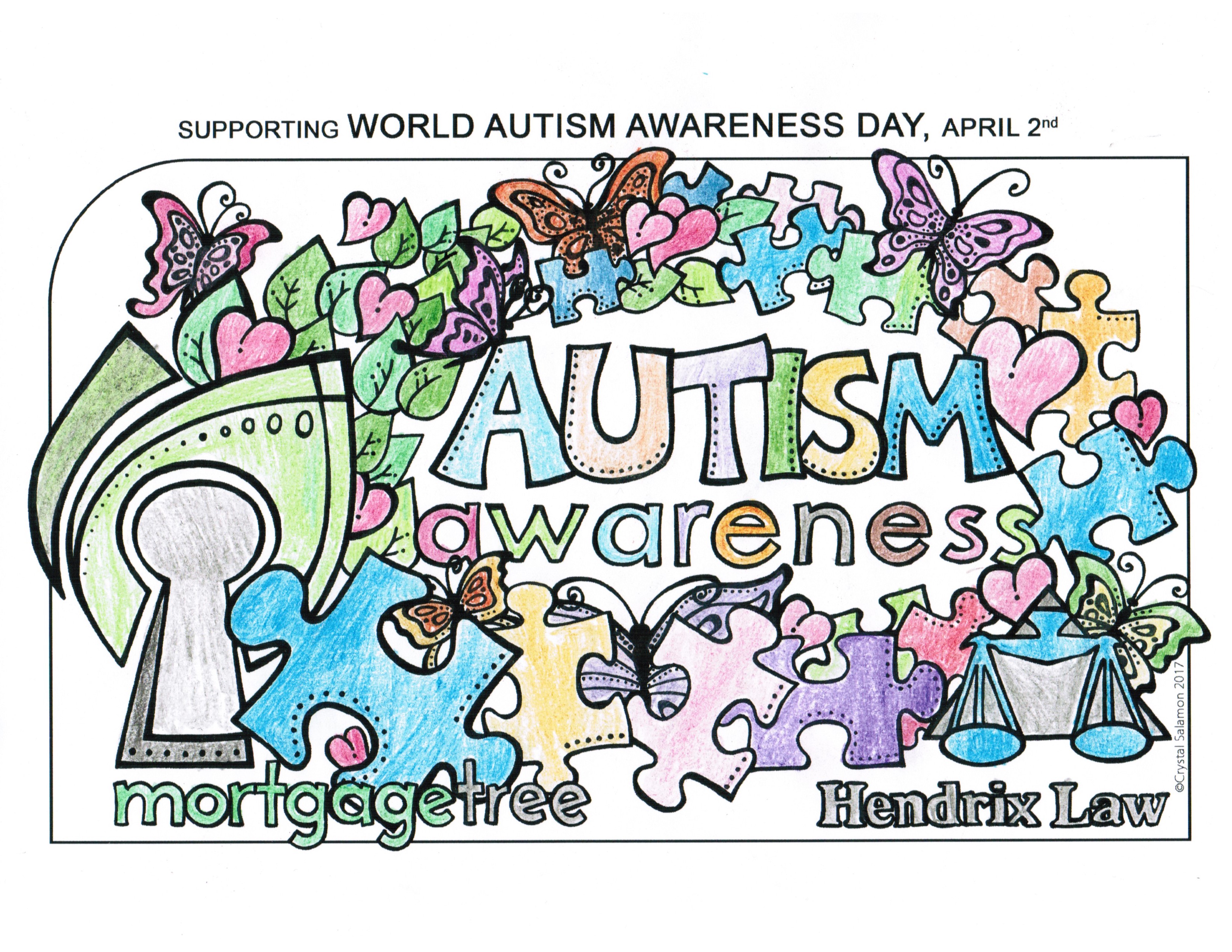 Download / Print the Contest Colouring Page!
A Fun Contest for a Fabulous Cause!
ARE YOU SITTING DOWN?!!  We are excited to announce a new colouring contest with AWESOME prizes, sponsored by two incredible Calgary companies!
April 2nd is World Autism Awareness Day. To help spread the word, Mortgage Tree, Hendrix Law,  Orange Theory Calgary have teamed up with Best Selling Colour Book Artist, Crystal Salamon to create a colouring contest. Prizes are for Canada only but everyone is welcome to download, colour and share their page far and wide to help raise awareness.
Autism has hit close to home at ​MortgageTree​ and Hendrix Law, and as such, we have a very specific and heartfelt interest in helping support, and give back to this community. MortgageTree and Hendrix Law ​donates a percentage of our earnings to assist families with Autistic children through ​Autism Calgary​ and Janus Academy​.
Did you know:  1 and 68 children are currently diagnosed with autism spectrum disorder.  The prevalence of ASD has increased over 100% in the last 10 years.  Autism is now the fastest growing and most common diagnosed neurological disorder in Canada.
Hendrix Law and Orange Theory Fitness Calgary Donations
For every picture that is coloured and posted Hendrix Law is going to donate $1.00 to Janus Academy to a maximum of $5,000.00.
Orange Theory Fitness Calgary is going to make a corporate donation to Janus Academy.
Check out our video – click here
Prizes…
1st Place:  2 tickets to the Calgary Flames
2nd Place:  iPad
3rd Place:  Go Pro Camera
4th Place:  1 Free month at Orange Theory Fitness Calgary
10 Runner-Up Prizes: Each winner receives a signed copy of Ignite: Artful Coloring and  large coloring sticker by Alberta Artist, Crystal Salamon!
50 Random Prizes: Gift cards and more!
To Enter…
Download & print this free page.
Add your colour then take a photo of your page.  Add your name and age if you like a chance to win a prize!
Post your photo with the hashtag #mortgagetreecontest on Mortgage Tree's Facebook wall or on Instagram or email to info@mortgagetree.ca
Entries are due by 11:59 p.m. (MST) April. 2nd/17.
More chances to win – YAY!
…have you already liked their pages? Then you already have extra entries – YAY!
Who Can Enter?
Canadian residents of all ages and skill levels. No purchase necessary
How to Win?
1st, 2nd and 3rd prizes are chosen by Hendrix Law and Mortgage Tree.
Runner-Up awards are randomly drawn – everyone has an equal chance to win!
Winners will be announced April 3rd/17
How Can You Donate?
Please help us by forwarding our Facebook post, this page to anyone you know or maybe interested.  You can also donate to Janus Academy in Calgary www.janusacademy.org or Autism Calgary www.autismcanada.org


If you have any questions please email info@mortgagetree.ca
We look forward to seeing your awesome colouring!
Good Luck!